Systematic Approach to Better IT
Do You Have Strong IT Strategy?
The traditional IT infrastructure model has reached its breaking point. In order to accommodate the growth of new devices, amount of data and security threats, IT infrastructures need to get smarter. TechHeights's comprehensive portfolio of IT strategy and design services can help you optimize your infrastructure to better align with business objectives. We leverage best practices to develop an interconnected, intelligent IT strategy which will help foster innovation and move your business forward.
Our Approach Towards Strong IT Strategy
With a focus on both business and technology, our team can help in development of a complete IT strategy for the business. Our information technology strategy approach includes the following activities: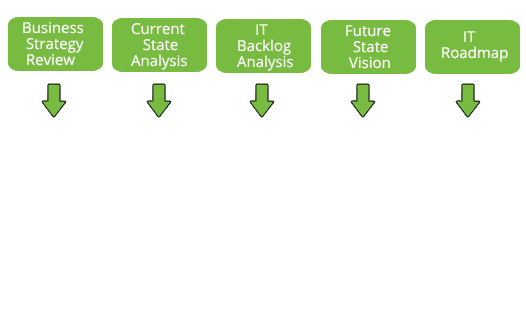 Business Strategy Review
Business Strategy involves a 360 review of the present IT, vision and objectives of the organization, with the goal that we can infer the suggestions for IT–what IT should be and do so as to support the business methodology.

Current State Analysis
During this analysis, we evaluate the present IT infrastructure and business applications. This provides an indication about frameworks that are most important and are candidates for additional support, substitution or redesigning. These measurements help us benchmark IT expenses and staffing levels, the adoption level for new innovations, and the condition of IT administration best practices.

IT Backlog Analysis
All businesses have backlogs of IT requests including IT infrastructure and application projects. In this progression, we assess those projects and requests to make sure that they are aligned with the business goals and strategy. Additionally, evaluate how they affect the present state analysis.

Future State Vision
In this stage we align business goals with IT strategy to future proof the business growth. The IT methodology includes envisioning the future state where IT infrastructure, applications, individuals, and procedures are completely adjusted for the business growth.

IT Strategy Roadmap
In this stage, the individual activities and phases of the IT strategy are outlined. These initiatives are put together to create a final road map to achieve the desired business vision and goals. It additionally incorporates budgetary estimates, and business cases for the significant activities expected to achieve the objective.
Developing an IT transformation and optimization roadmap and technical architecture
Define projects and programs required to close the technology gaps
Prioritization of optimization projects based on their projected ROI)
Workshops that help develop a strategy and plan for the most effective ROI for cloud computing
Determining how ready you are to effectively execute your strategic plan
Determining infrastructure maturity levels
Recommending the IT projects with the greatest potential savings across the board
Providing the necessary skills to help successfully execute the transformation roadmap
Quantify IT and domain resources required
Recommending appropriate capabilities, tools and sequencing of projects for greatest business value
Schedule your 
FREE
 1hr consultation today !
TechHeights | Business IT Services in Orange County, LA, Riverside, and San Diego