Find the Right Cloud Communication Solution for Your Organization.
Every month, we help our buyers identify the best solutions,
compare personalized quotes and connect with prescreened providers.
Get a Free Quote
Voice over Internet Protocol, shortened to VOIP, is group of technologies that deliver voice communications and multimedia sessions over IP networks like the Internet. VOIP works by taking analog audio signals, like those you hear when you talk on the phone, and turns them into digital data that is able to be transmitted over the Internet.
This technology offers many benefits. When you use VOIP, you can take a standard Internet connection and turn it into a "free" phone line. When you use VOIP to make Internet phone calls, you can bypass expensive phone company charges entirely!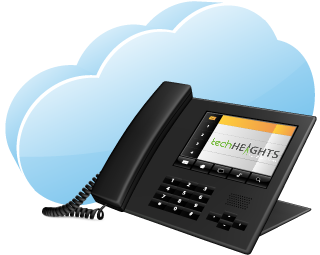 With VOIP, there are several ways you can place a call, including
This is the simplest and most common way to make a call. It works by using an analog telephone adaptor (ATA) to connect a standard phone to a computer or Internet connection. Once connected, analog signals from your phone will be converted into digital data that can be transmitted over the Internet.
IP Phones are a specialized type of phone that looks just like normal phone, including a handset, cradle and buttons. However, instead of using standard RJ-11 phone connectors, IP phones use an RJ-45 Ethernet connector. This means that the phone can connect directly to the router and allow you to place calls. Similarly, Wi-Fi phones allow callers to make VOIP calls from any available Wi-Fi hot spot
The easiest way to make a VOIP call is through the computer. This type offers many advantages, including not having to pay for long-distance calls. All you need is the an Internet connection, the right software, a microphone, speakers and a sound card.
VOIP is truly a revolutionary technology that offers the potential to completely rework the way phone systems currently work. With numerous applications and the potential for even more advancement, this new technology may one day completely replace the traditional phone system. If you are looking for a solution to high phone and calling costs, consider Orange County VOIP Phone options, available through TechHeights.
Can TechHeights Help Me with VOIP?
What Other IT Services Does TechHeights Offer?
TechHeights is a highly recognized and certified provider of
small business VOIP
phone systems in Orange County.
We are also a provider of complete computer and network support. This means that our team can thoroughly evaluate your IT infrastructure, taking into account your business's needs and accommodating for any future growth plans. Our range of
Irvine VOIP phone
and IT Services
can provide the best solutions for your business's needs, from concept and system design to continual maintenance. Our
VOIP Irvine
and IT Services
include:
Computer and Network Support

 

– We take a proactive approach to mitigate any issues before they disrupt the operation of your business
Complete Network Installations

 

– We offer a range of end-to-end network solutions, from setting up an entirely new network to overhauling and existing one
System Maintenance and Upgrades

 

– To ensure your systems and equipment continue to function properly, our team can perform regular system maintenance and upgrades
Network Security

 

– It is important to protect your business and customers. We offer comprehensive security solutions like anti-virus software and disaster recovery options
Network Monitoring and Alerting

 

– Monitoring and managing your network and workstations is extremely time consuming. The team at TechHeights can do it for you, 24 hours a day, 7 days a week
Emergency Support Services

 

– When disaster strikes, our team can be at your site within 4 hours to offer you diagnostic and resolution services
Troubleshooting

 

– We will conduct a periodic system assessment to identify potential or emerging threats as well as quickly diagnose and correct any problems
Disaster Recovery Implementation

 

– In the event of a disaster, it is best to have a Disaster Recovery Plan in place. Our team can help you do that, ensuring that your data is never lost
Consulting CIO

 

– If you need advice on the best trends, technology and practices, our consulting CIO can help
Database Administration

 

– We can offer you aid with new database upgrades, changes or migrations
Custom Solutions

 

– No matter what IT problem you may be dealing with, our team can create a custom solution that addresses all of your needs
Our proven record of effective delivery can offer you the IT services you need to really grow your business. Our team understands that a successful IT solution incorporates the right combination of system components and technology, uniquely designed for the needs of every organization or business. The experts at TechHeights are proud to offer both small business VOIP and IT Services, bringing our clients the best solutions that meet their budget, security and performance needs.
TechHeights | Business IT Services in Orange County, LA, Riverside, and San Diego